Free eBook: Client Acquisition Systems
Scale Your Business 2x – 30x While Enjoying More Time Off:
"In 15 Minutes, Learn How to Get a Consistent and
Scalable Stream of Leads that Convert
to High Quality Clients"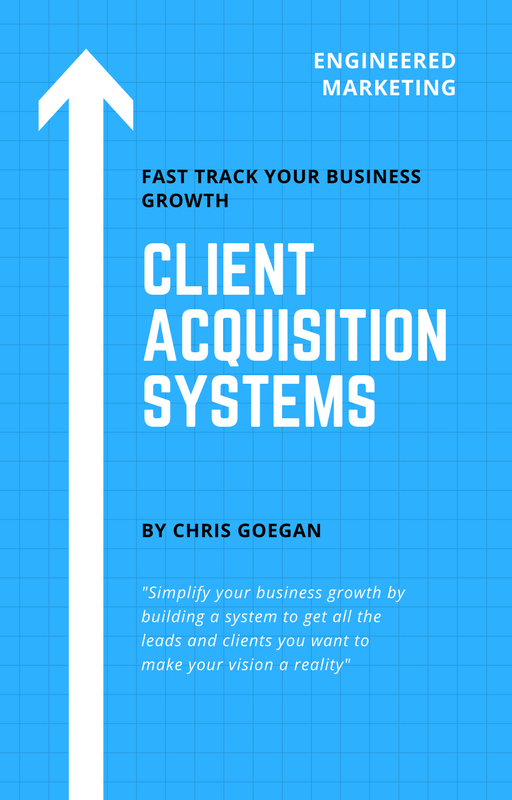 "Imagine you have a magic box. Magic because of its unusual capabilities. It could produce unlimited amounts of money from smaller amounts of money. That's right, it's a money multiplier. All you have to do is place a small denomination bill – a $1, $50 or $20 bill into the slot on the side of the box and out came a larger denomination – a $100, $500 or $1000 bill from the slot at the bottom."
Imagine if you had a magic box like that? What would you do with it?
Sound far-fetched? It's not. That is what a well-engineered, and properly functioning Client Acquisition System will do for you.
You invest dollars in your marketing and advertising, and a multiple of that comes out in the form of new, happy, paying clients. And not just any clients, but the ones that you enjoy working with the most.
Here's how:
Client Acquisition Systems is comprised of two elements: Lead Generation and Lead Conversion. Lead generation will bring the leads to you, lead conversion will warm and close those leads into happy, paying customers. When engineered and orchestrated properly, it simplifies business growth.
We start with Lead Conversion.
When that is built, we can plug ANY Lead Generation traffic source into it – whether it's online advertising, or offline, or a combination of the two – it will work. It works with Facebook, Google, Twitter, LinkedIn, YouTube, Social Media, Direct Mail, and everything else.
No more chasing latest fads or technologies. Why? Because we don't build it around technologies, we build it around people – why they buy, and how to get them to smoothly and seamlessly go from casual interest to committed customer.
We have developed a remarkable system to do that. It's called "Engineered Marketing"
We have a free eBook that explains more and shows how this works. If you want to grab a copy and peruse it, fill out your name and the email address you want us to send it to and we'll rush it over to you.
Ready to do the remarkable?
With enough leads rolling in, and a team and systems delivering a 5-star experience, the greatest feeling you'll have is depositing a check into your account worthy of the sacrifice you made . . . and doing it again, and again, and again.
What if what I'm saying is true? What if your situation could miraculously change? What if through a little hard work (it will take work) you can have astonishing success?
You owe it to your business, to yourself, and to your dreams to peruse this book. In 15-minutes you will devour it and a whole new world of possibilities will open up.
This book will help you clear out all the "muckety-muck" and confusion so common today, and will get your business moving in a direction you never would have believed possible.
Enter your name and email address above and we'll send it to you right away.
Blessings,
Chris.
"If Chris Goegan isn't the answer to everyone's prayers, he's been the answer to mine! I've never worked with a more enthusiastic, capable, resourceful and productive guy. And we've been in business for 30 years! Best of all, Chris always keeps his word! If trust is as important to you as it is to me, then by all means, give Chris a try as I did. Then you'll be up here touting his wares!"
"Chris Goegan excels in helping companies fine-tune marketing sonars to spot treasure chests under vast seas of data. His unique "Engineered Marketing" approach has been invaluable to helping us minimize risk while maximizing returns. The portion of our marketing budget allocated to Chris generates better returns than any other money that we spend on marketing."
"I highly recommend Chris Goegan, he is an honest trustworthy soul.. I have seeked his wisdom in council for many years and he has opened my eyes to fresh ways of approaching our business and marketing needs.. if your business needs a kick start, look no further and take Chris up on his offer to review your marketing needs."
"I've spent $26,000 on business coaching over the last 18 months but learned more in 3 hours with Chris about growing my business! In just minutes he gave me a clear path to double my business and give me so many options on creating a lifestyle I love. Ignore this guy at your own peril."
"A distribution company I own decided to go on the web to sell nation-wide. Turned out, this is not easy. When we hit the wall, I contacted Chris and he got us headed in the right direction"