For busy business owners and marketing managers who want their website to produce the volume of leads and sales that it should:
Is Your Marketing Working Like It Should?
In 3-Months You Can Have a New Flow of Leads In This Changing Market
In 12-Months You Can Have Remarkable Growth
In 2-Years You Can Own Your Niche
Watch this video to learn how our Engineered Marketing can take your business to a whole new level!

"If Chris Goegan isn't the answer to everyone's prayers, he's been the answer to mine! I've never worked with a more enthusiastic, capable, resourceful and productive guy. And we've been in business for 30 years! Best of all, Chris always keeps his word! If trust is as important to you as it is to me, then by all means, give Chris a try as I did. Then you'll be up here touting his wares!"
Of What Value Is It to Have All the High-Quality Leads You Want DELIVERED TO YOU?
Do You Want To Be Anxious, Sweating, Scrambling,
Forever Chasing the Latest Fads, OR,
Do You Want a System That Delivers You
Loads of Leads (or Clients) Seemingly at Will?
Go From Frustrated and Overwhelmed, to
Confident and In-Control of Your Marketing


. . . with our "Engineered Marketing" Client Acquisition System, you can.
If you're like most business owners, CEO's & marketing managers, you are bombarded with messages about Facebook, Google, SEO, PPC, Adwords, Twitter, YouTube, Bing, Remarketing, Video, Email. Trying to understand it is confusing at best – what ones are best for YOU? What is the NEXT BIG THING you should be doing?
Or maybe you just invested a whole bunch of money on a digital marketing consultant or a new website, and instead of leads coming in, there's crickets chirping. (There's a fundamental reason why most websites fail to deliver the results you were led to believe.)
Are you up for a challenge? . . . I want to challenge you to think about your marketing differently. Most people will leave at this point, because what I'm going to say is completely, and significantly different, from everything you've heard or believed to be true. You have been pandered to for too long. Marketing is simple, but not the way you have been led to believe. Can you be open to a different point of view? Humor me and give me 5 minutes to read the rest of this page. . . and if it resonates, let's talk, it's on me. If it doesn't, then leave and keep chasing the ghost.
Did you ever stop to think how great it would be to have a steady flow of leads that turn into high quality customers or clients – that goes on whether you work or not? A flow of leads that doesn't dry up or require you to always be hustling or chasing the latest traffic technique? That doesn't require you to be a technological wizard? That just runs, giving you the freedom to be a robust company of one, or to scale your company to fit your lifestyle or your vision?
If I didn't know better, I'd probably be saying "Yeah right Goegan, give your head a shake, that's not how it is in the real world"
Believe it or not, there is a system that could be bringing you a fortune in the form of red-hot leads, without your lifting a finger! Simple, proven, client acquisition systems that practically run themselves – to allow you to be in control of your time and money. All you need to bring is 1) a strong work ethic and the desire to succeed, and 2) the step-by-step methods we have developed.
The problem is, most business owners' marketing is NOT working. My average client has blown at least $25,000 on marketing consultants, agencies and "guru's" that have promised them the moon and delivered garbage.
Why do so many fail, and why do so few succeed? This is vital because in today's online economy, 95% of the spoils will go to the top 1% of the businesses.
You've seen people (or have yourself) put in countless hours with the same concern, working away at the same piddling tasks. Being pandered to about the latest gimmick or social media thing to get more business. Hard workers, faithful to their business, painstakingly doing and trying things – but getting nowhere. "Fanning the air!"
You've seen others – offering a lesser quality product or service, certainly no more capable than you – jump out of nowhere and forge rapidly ahead.
Why? What is the secret that launches some forward, while holding others back? Not education. Not training. Not money. These help, but it isn't that.
The difference between the successful business and the unsuccessful one is far deeper than that. It's not a matter of training or technology.
It's not a question of opportunity or luck.
It is simply that the successful business has the uncanny ability to get leads and clients almost at-will.
They have a well-engineered client acquisition system.
My good friend Guy Baker tells this story in his brilliant book "Why People Buy":
"Once upon a time, there was a magic box. It was called a magic box because of its unusual capabilities. It could produce unlimited amounts of money from blank pieces of paper. That's right, money from blank paper. All you had to do was place a blank piece of paper into the slot on the side of the box and out came a large denomination bill – a $100, $500 or $1000 bill from the slot at the bottom."
Imagine if you had a magic box like that? What would you do with it?
Realizing this is not a trick question, most people I've talked with say they would run around and get all the paper they could and stuff it into the box. They would max their credit cards and buy all the paper they could. They would hire someone to make sure it is fed 24/7 and they would have it closely guarded and protected.
Stay with me for a minute, IF you had this (and I realize this is a big "IF"), what impact would it have on you and your organization? What problems would it solve in your life? How would you feel about your business and your future? What stresses would it relieve? What markets would it open up? What opportunities would you pursue?
Unfortunately, none of us will ever own a box like this. But you have something that is equally as valuable: your client acquisition system.
A Client Acquisition System will deliver you leads, or clients, depending on your industry and how you structure it.
A Client Acquisition System in a way you've never thought about before.
A properly engineered and built Client Acquisition System is that magic box. Where you put a small denomination bill, $1, $5, $20, in one side of the box, and out comes a large denomination bill – a $100, $500, or $1000 bill from the slot at the bottom.
Your client acquisition system will keep working 24 hours a day, 7 days a week, 365 days a year (you can give it a day off for leap year every four years J). Best of all, it will never complain or call in sick. And it will produce for you regardless of your mood (that's a good thing for many business owners!)
In my business, my organization does all the repeatable work. This repeatable work is work that can be systematized and automated utilizing technology or an assistant. The technology I use is mainly comprised of a website, opt-in forms, emails, automated traffic sources, marketing automation software and analytics software. I invest my time developing or pursuing the bigger opportunities and the system does all the sifting, sorting, nurturing and filtering for me.
You send traffic to your client acquisition system, it does all the hard work, and delivers you sales, or if you're a professional service business, it delivers hot leads pre-sold on doing business with you. The end result is that you get to focus on why you got into your business – helping people solve their problems, and NOT with all the people that suck the living life out of you (or your team) and leave you begging "dear Lord take me now!"
The good news… you can create a system that will take people with varying degrees of interest and using systems and automation, it will meet them where they're at, filter and warm them according to their needs, and produce only the hot prospects ready and wanting to do business with you.
You Decide – Done For You, or Done With You Services
And yes, it works with whatever traffic source makes sense. We have a proven step-by-step method, called Engineered Marketing, where we can roll this out on the traffic sources FOR YOU, or if you want to do it yourself, we can do it WITH YOU.
The first step is to have a free 15-minute consultation. I will outline our process that has worked for hundreds of companies that I've personally worked with, in 100+ industries.
There is one thing every business owner has in common. Every business has a marketing plan, either by design or by default. While you are most likely doing many things right, overall, your plan may be lacking in areas. And from a profitability standpoint, every marketing plan has a price tag.
What is the price tag of your plan? How much is it costing you to NOT get the results you desire?
Is it time for a second set of eyes to give you new perspective on what you might be missing or could do differently to multiply your results without any additional time?
"I've spent $26,000 on business coaching over the last 18 months but learned more in 3 hours with Chris about growing my business! In just minutes he gave me a clear path to double my business and give me so many options on creating a lifestyle I love. Ignore this guy at your own peril." … Sean Mysel, King of Sports Marketing
"Chris Goegan excels in helping companies fine-tune marketing sonars to spot treasure chests under vast seas of data. His unique "Engineered Marketing" approach has been invaluable to helping us minimize risk while maximizing returns. The portion of our marketing budget allocated to Chris generates better returns than any other money that we spend on marketing." … Tim Voorhees, Principal Partner, Matsen Voorhees Mintz LLP
Prefer to schedule by phone?
Call Chris at 714-553-2982
Important: From working with 100's of business owners in 100+ industries over the last 25+ years, we have found that most business owners are so busy being successful that they don't have time to learn everything about marketing online. If you want help and want to work with someone that knows what they're doing with a proven track record, then we should talk. We will be upfront whether we can help you or not. Please note, we cannot take on everyone. Clients must already believe that internet marketing would be good for them and they must have a budget. Due to the increase in demand, we have to be selective about who we work with. I'm sure you understand. I know that sounds like a cheesy scarcity tactic, it's not. We went through the whole Jerry McGuire thing of "Less clients, more impact" and it's been working well (see the Case Studies section). Bottom line: if you want an objective answer or outside perspective with regards to whatever situation you are facing, then let's have a chat.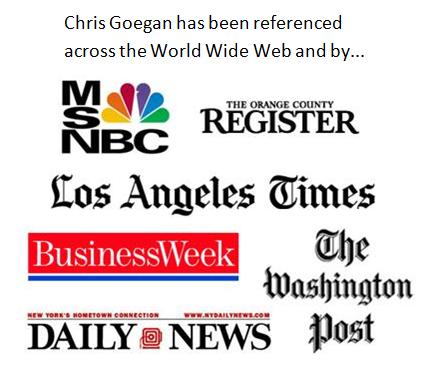 "A distribution company I own decided to go on the web to sell nation-wide. Turned out, this is not easy. When we hit the wall, I contacted Chris and he got us headed in the right direction" (Boake Sells, former multi-billion dollar major retail corporation CEO)
"Making a simple, yet profound change in my sales and Adwords strategy allowed me to increase sales by over 200% in ONE QUARTER!!" – Ja'Rod Morris. … Please note: results will vary from person to person based on their unique situation