Chocolate Chunk Oat Bars – yum!!!!!!!!!
My kids rate these 2 chocolaty thumbs up!!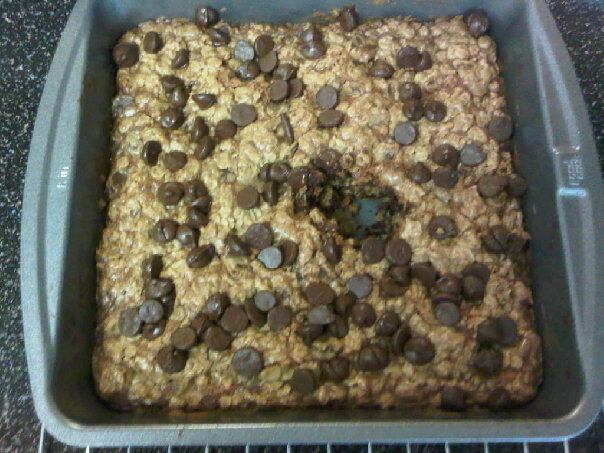 Love cooking with Naomi (my wife) and the kids. This is the tasty treat we just baked up. (That's the "tester" piece missing from the middle).
You are only 30 minutes away from pure love with this "healthy" treat. It has Oatmeal in it, so of course it's health eh!!! 🙂
Here's the recipe…
1 cup all-purpose flour
1/2 teaspoon baking soda
1/2 teaspoon salt
1 cup packed brown sugar
1/2 cup (1 stick) butter, softened
1 egg
1 tablespoon water
1 teaspoon vanilla
1 1/2 cups uncooked old-fashioned oats
2 cups semisweet chocolate chunks (or chocolate chips)
Directions:
Preheat oven to 375F. Lightly grease 9-inch square baking pan. Combine four, baking soda and salt in small bowl.
Beat brown sugar and butter in large bowl with electric mixer until creamy. Add egg, water and vanilla; beat until well blended. Stir in flour mixture and oats; mix well. Stir in 1 1/2 cups chocolate chunks.
Spread dough (c'mon, this stuff is not dough, it's a goo-ey mixture of pure sweet sugary heaven!) evenly in pan; sprinkle with remaining 1/2 cup chocolate chunks (mmmmm). Be sure to eat a couple of chocolate chunks between munching on fingerfuls of the gooey dough. Bake about 30 minutes or just until center feels firm – or until you just can't stand waiting any longer and have to have them now!!!! Cool on wire rack while you are burning your mouth gobbling up a tasty "tester" piece.
I found it is best to either workout directly before making and eating these so you won't feel guilty. Or, the other option is to take a nice nap so you are ready for the sugar rush. Serve with a nice cold glass of milk! Optional, servce with an insulin shot if you are having more than 3 at a time.
Also, these are best served up around midnight after the kids are sound asleep. (more for you!!) 🙂
Enjoy eh!
Chris.
P.S. Feel free to comment below if you find anything to add to these yummy delights.
http://www.chrisgoegan.com/wp-content/uploads/2017/03/logo.png
0
0
Chris
http://www.chrisgoegan.com/wp-content/uploads/2017/03/logo.png
Chris
2010-07-19 13:17:06
2012-08-13 16:10:50
Yummy Chocolate Chunk Oat Bars!!